Maris Polymers is a manufacturer of liquid membranes for waterproofing roofs and terraces. Since 1989, it is present in over 50 countries worldwide, and recently also in Poland. From its competitors distinguishes itself by the quality of the relationship to the price of their products, which guarantees for up to 25 years.
These membranes are designed for applications on new construction and renovation of the old roof hydroisolation (bitumen, EPDM, PVC, polyurethane foams, sheet metal, etc.).
Excellent adhesion properties and the minimum weight of the Mariseal membranes enable easy renovation of roofs and terraces without breaking and disposal of the old waterproofing. Just prepare the old surface using a properly selected primer to be able to make applications directly on the old insulation using a regular brush, roller or airless spray, without any source of heat. This technology significantly reduces the cost of repairing the roof and terrace.
WARRANTY
Maris Polymers systems are warranted for 10, 15 or 25-year, depending on the applied solution adopted for the specific implementation. So long warranty period is possible thanks to the highest quality components and rigorously maintained at every stage of production, quality management system. Quality Control Department operates according to the fully implemented by Maris Polymers standards EN ISO 9001 and EN ISO 14001.
The product brought on to the market is perfect in every way. The highest quality of products has been confirmed among others by certificates like: CE, DIBt, ETA and EOTA.
For more information about products, technology and the company on www.marispolymers.com
MARISEAL SYSTEM
Is a family of products based on polyurethane resins, forming a coherent system of seamless roofing membranes for flat and pitched roofs. Protect the construction of a long-term guarantee of durability. The system is resistant to the most difficult weather conditions.

Advantages
· Easy application
· Creates a seamless membrane, that guarantees the tightness of the coating
· Bridging cracks up to 2 mm
· Maintains all mechanical properties in the temperature range of -40°C to +90°C
· Provides water vapor permeability
· Provides closely bound to the substrate over the entire surface
· Provides high reflectivity of sunlight: lower amplitude of the surface temperatures are reducing constructional design work – longer components life
· No heating of the attic in the summer reduces the use of air conditioning and reduces costs
· Resistance to the growth of plant roots (green roofs)
· The surface may be exposed to heavy use by pedestrians, depending on the applied surface layer
· Resistance to oils, detergents and other chemicals
· In case of mechanical damage easy spot repairs
· Low cost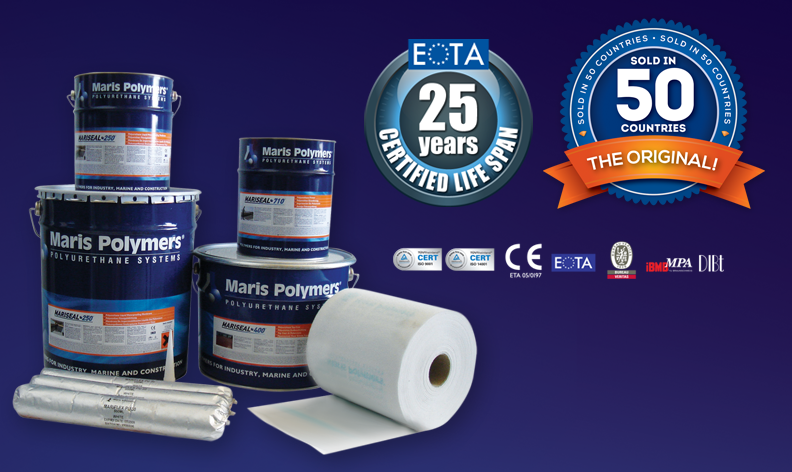 Application
It is used for waterproofing:
· Roofs, terraces, balconies
· Areas permanently exposed to water
· Water tanks, swimming pools
· Flowerbeds
· Foundations
· Pedestrian tracts, walkways.
The possibility of application of the membrane to:
· wood
· concrete
· mortar
· metal
· bituminous tar papers
· foundations
· EPDM and PVC membranes etc.
MARISEAL®SYSTEM PRODUCTS:
MARITRANS SYSTEM
Terraces and balconies are constantly exposed to moisture, damaging UV radiation, erosion, acid rain, friction and tension associated with changes in temperatures and freezing water.
These are the causes of peeling the ceramic tiles on the ground and leak. For sustainability of water resistance and decorative effect, you should use MARITRANS® SYSTEM. This membrane is applied to the surface of the terrace or balcony, providing a waterproof and protect new structures as well as the renovation of leaky surface, allowing to significantly reduce the cost of repair - no need for break the old ceramic surface, the imposition of a new waterproofing and new tiles.
Product
MARITRANS® is a transparent waterproofing coating based on a UV resistant polyurethane resins. Applied onto a terrace or balcony creates a seamless membrane resistant to pedestrian traffic, protecting the surface against the most difficult weather conditions.
MARITRANS® successfully passed testing at the German Institute of Building Materials MPA-Braunschweig
It was also certified according to standards:
· DIN EN 1928 Procedure A and was classified as a waterproofing membrane.
· EN ISO 12572 according to which is certified as a breathable membrane.
· DIN EN ISO 572 is a process of accelerated aging. After 2000h exposure to strong UV rays revealed no mechanical changes.
· DIN EN ISO 4628-6, according to which there was no chalking after 2000h exposure to strong UV radiation.

MARITRANS® membrane was developed also in view of other applications, that require a colorless waterproofing resistant to UV radiation, including the repair of leaking structures such as:
· Atriums
· Transparent polycarbonate roofing
· Skylights
· Broken/ cracked surfaces of glass
· Glass bricks, glass, etc.
Advantages
· Easy application (one component product)
· UV resistance
· No chalk up, non-yellowing
· Resistance to standing water
· Decorative coating, easy to clean
· Does not age, does not crumble, does not harden
· Bridging cracks
· Creates a seamless coating, free of joints and the possibility of leakage
· Retains the mechanical properties in the temperature range from -30°C to +80°C
· Provides a vapor permeability
· Provides a bonding to the substrate over the entire surface
· Membrane designed for daily use by pedestrians
· Resistant to detergents, oils, acid solutions, etc.
· Easy to spot repair in case of damage
· Low cost compared to traditional restoration, including breaking the old and applying new waterproofing and new tiles.

Application

The entire surface must be activated by using the primer MARITRANS® TILE PRIMER.
Primer clean and degrease the surface providing high adhesion parameters.




Application of MARITRANS® membrane.
After binding membrane creates a lustrous surface. If it is desired satin-matt finish apply one coat of MARITRANS®FINISH to the main membrane. For best results, the surface on which we make the application must be dry, welds and joints must be clean and free of precipitated salt.


Types
Decorative coatings
Waterproofing of the terrace and the balcony can be done using a combination of systems MARITRANS / MARISEAL.
This gives a wide feasibility of decorative terrace finishes.
The first step is an application of MARISEAL®250 on the surface to be waterproofing. MARISEAL®250 is a highly elastic membrane class premium, which can cope with any movement of the structure of the building. It is the main membrane of waterproofing system. The next step is the application of MARISEAL®400 layer to achieve the desired color. On the still wet surface, we sprinkle selected at the discretion decorative chips. Then, we apply a layer of transparent coating MARITRANS®, the last sealing layer of decorative terrace floor.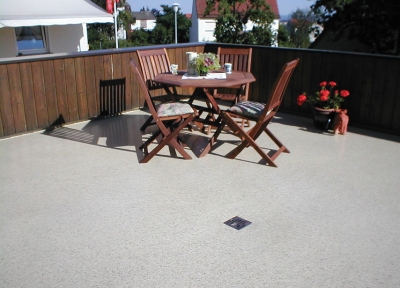 Sandy carpet
Waterproofing of the terrace, balcony and a pedestrian walkway can be performed using a sandy carpet.
This solution is durable, decorative, has non-slip properties.
The first step is an application of MARISEAL®250. It is highly elastic polyurethane membrane premium class, which can cope with any movement of the structure of the building. It is the main waterproofing membrane of the system. The next step is to create a resin mortar, based on which will perform a sandy carpet. The mortar is performed by mixing a colorless liquid membrane MARITRANS® with colored silica sand or a fine natural stone. We apply the mortar with a trowel directly on the MARISEAL® 250. The obtained surface is durable, resistant, slip-resistant, resistant to abrasion, aesthetic and, of course, completely water resistant.